Thank you, Jacki, for asking me to come play on your blog for a day.
What is it about the alpha male that we love so much? I've been a fan of alpha heroes from my very first Johanna Lindsey novel. Since then, I've read as many books as I could get my hands on that featured strong alpha males: Julie Garwood, Linda Howard, Christine Feehan to name a few. When I started to write my own books, I created the kind of heroes I liked to read—dedicated heroes with very alpha traits.
Alphas are bigger than life, take charges kind of guys. They're the kind of men who stick to their convictions and who will go out of their way to support family or friends in need. While they'll fight tooth and nail for the ones they love, these men also live by a strong code of honor.
Writing an alpha male that doesn't come across as a jerk can be tricky. I personally believe it all comes down to striking a fine balance between making him "very confident and strong" and giving him the right "chinks in his armor" (at least one is usually related to the heroine *g*).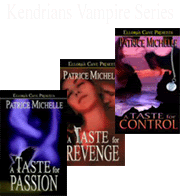 Yes, alpha heroes can be arrogant and strong-minded, even pigheaded at times, but these very same qualities are what gives the alpha hero that "extra edge" we slurp up with a spoon as we watch him fight for his woman. Whether that "fight" is against a villain or his own internal issues keeping him from accepting how much she means to him, nothing melts our hearts more than to see a very strong Alpha male brought to his knees by the love of woman.
So how do we present this strong, dominant Alpha male's loyalty and dedication to the heroine? How do we show his emotion and just how deep his love runs? We convey it through dialogue, yes, and also through finer, more subtle ways via the hero's actions, making it crystal clear to the reader how very much this Alpha cares for the heroine.
If you'd like to read excerpts featuring alpha heroes paired with heroines to match them, I hope you'll check out my
website
. Whether they are seductive vampires or werewolves, or sexy, rugged cowboys, all my heroes have one thing in common--they're very Alpha and very dedicated to their women. :o)
Question: What are some traits you feel qualify a hero for "Alpha" status?
Join in the discussion and at the end I'll pick a winner to send a download of my latest eBook, SUSANNA'S SEDUCTION!

Now let's chat!





Patrice Michelle



Patrice's Upcoming Books:
Anticipation – October 2007, Samhain
Scions: Resurrection (book 1) – January 2008, Harlequin Nocturne
Places to find more information about Patrice:
Patrice's Website
Patrice's Blog
Patrice's MySpace