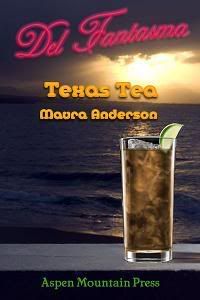 I have terrific news today - my very first fiction story is out TODAY from
Aspen Mountain Press.
You can read more details on my
Website
as well.
Somehow Jacki must have known this would be my release day when the guest blog schedule was set up!
I seem to be the total opposite of most authors I've met. Almost everyone I've talked to tells me that they wanted to be a writer for years, if not as long as they can remember. I never thought I could be a writer! It honestly never occurred to me.
But one day I had a life-altering thought ... "I bet I could write a book." In this case it was a non-fiction book on software security testing. Lots of research and work (and a bunch of time) later and I'd sold my first book ever. Despite being told that there was no market for testing books, mind you.
That did it. After that my thought became "I bet I could write a fiction book." With that, the Madness of the Muses set in. All the pent-up
what-ifs
started to spring to the forefront and now I have to admit that my Muse has no mute button. In fact, she's a two-timer! She was talking to my husband, C, in the shower a few days ago, lol.
I live constantly in a rather Be-Mused state. I'm just starting out, but I've learned a ton from other writers, including Jacki, and keep trying to learn more. But the
what-ifs
still pop into my head all the time. I now keep an Idea Book to write ideas down in so I can let them go for a while and focus on just the story I'm working on.
Texas Tea is the result of several of those
what-ifs
. Some Native American tribes revere coyotes because they used to be people. What if they ARE people? What if a ghost seer can see and hear ghosts but they don't care to hear or acknowledge her?
From these questions were born both this story and the concept of the coyote shifter tribes - the Desert Song People and the Mountain Song People. I don't think this will be the only story in this series -- too many of them are speaking to me now.
Story Blurb
Photographer Lara Saunders has a lifelong secret – she can see and hear ghosts. When she was rescued from a near drowning by the ghost of a lighthouse keeper, he set her on a mission to document historic lighthouses and the lives of their keepers so they were not forgotten. Now on her third book in the series, Lara has arrived in San Diego to document the Old Point Loma Lighthouse but hasn't counted on becoming the target Cody Warren, the matchmaking owner of the Del Fantasma bar. Or falling in love with a handsome Park Ranger whose secret is even more strange than her own.
You can read additional excerpts on my
Blog
and I have two contests going to celebrate this first release. There are details both on my
Blog
and in my
Newsletter
.
I'd love to know what you think of my first story and my coyote shifters. I'm thrilled to offer a story in my favorite genre - paranormal romance - and so honored that Jacki let me guest blog for her. I love her stories - I want to be her when I grow up!